Fire Pump Engine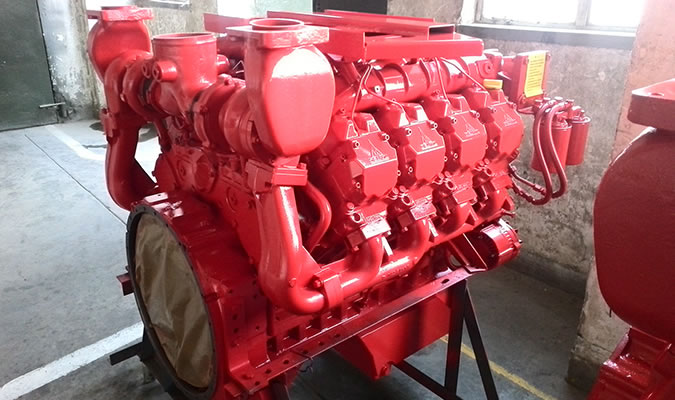 Our fire pump engine is a diesel powered motor that features a compact, lightweight structure that is a high power and low noise machine.
The fire pump engine is connected to the sprinkler system of a building and our pump engines are highly reliable and are easy to maintain.
High low-temperature starting performance
Directly start at -17 ℃ without assistant starting devices
Directly start at -32 ℃ with the assistance of preheater.
The power pack for fire pump is designed and produced according to the U.S. NFPA-20 standard.
Description of Engine Model Number

Graphic of Water-Cooled Engine
No.
Engine Model
Prime Power/
Speed kW/r/min
Standby Power/
Speed kW/r/min
No.
Engine Model
Prime Power/
Speed kW/r/min
Standby Power/
Speed kW/r/min
1
HC4L101-F1P1
54/1500
60/1500
24
HC6V132-F8P1
332 /1500
365 /1500
2
HC4L101-F2P1
71/1500
75/1500
25
HC6V132-F0P2
228 /1800
250 /1800
3
HC4L101-F1P2
63/1800
70/1800
26
HC6V132-F1P2
244 /1800
271 /1800
4
HC4L101-F2P2
79/1800
88/1800
27
HC6V132-F2P2
279 /1800
310 /1800
5
HC4L108-F1P1
77/1500
85/1500
28
HC6V132-F3P2
306 /1800
341 /1800
6
HC4L108-F2P1
97/1500
102/1500
29
HC6V132-F4P2
340 /1800
380 /1800
7
HC4L108-F3P1
117/1500
129/1500
30
HC8V132-F1P1
346 /1500
380 /1500
8
HC4L108-F1P2
85/1800
89/1800
31
HC8V132-F2P1
388 /1500
418 /1500
9
HC4L108-F2P2
105/1800
111/1800
32
HC8V132-F3P1
403/1500
448 /1500
10
HC4L108-F3P2
124/1800
136/1800
33
HC8V132-F4P1
413/1500
459 /1500
11
HC6L108-F1P1
146/1500
153/1500
34
HC8V132-F5P1
445/1500
490 /1500
12
HC6L108-F2P1
166/1500
183/1500
35
HC8V132-F6P1
480/1500
530 /1500
13
HC6L108-F3P1
183/1500
201/1500
36
HC8V132-F7P1
509/1500
560 /1500
14
HC6L108-F1P2
155/1800
163/1800
37
HC8V132-F1P2
372/1800
413 /1800
15
HC6L108-F2P2
186/1800
204/1800
38
HC8V132-F2P2
408/1800
454 /1800
16
HC6L108-F3P2
204/1800
224/1800
39
HC8V132-F3P2
426/1800
473 /1800
17
HC6V132-F1P1
177 /1500
195 /1500
40
HC8V132-F4P2
466/1800
517 /1800
18
HC6V132-F2P1
190 /1500
210 /1500
41
HC8V132-F5P2
509/1800
560 /1800
19
HC6V132-F3P1
208 /1500
231 /1500
42
HC8V132-F6P2
527/1800
580 /1800
20
HC6V132-F4P1
228 /1500
250 /1500
43
HC12V132-F1P1
600 /1500
660 /1500
21
HC6V132-F5P1
259 /1500
285 /1500
44
HC12V132-F2P1
660 /1500
740 /1500
22
HC6V132-F6P1
285 /1500
314 /1500
45
HC12V132-F1P2
665 /1800
730 /1800
23
HC6V132-F7P1
314 /1500
345 /1500
46
HC12V132-F2P2
690 /1800
760 /1800